To use your own media within VRA the Cloud environment enables you to easily import and ingest media to use assets in your Visuals and Output Players.
---
Still images
Within Cloud you can upload your Media in the form of images (png, jpg, etc.)
VisualRadioAssist
https://visualradio.cloud/media/images
Note on quality
VRA will make sure that uploaded images are always loading as fast as possible in your Cloud (automatic compression). However when used in an Output (Visual Element display) the Media is always loaded in the highest possible quality.
Video Media
Output Player rundowns support your uploaded media as content, so you are able to play your freshly uploaded video content on a Player.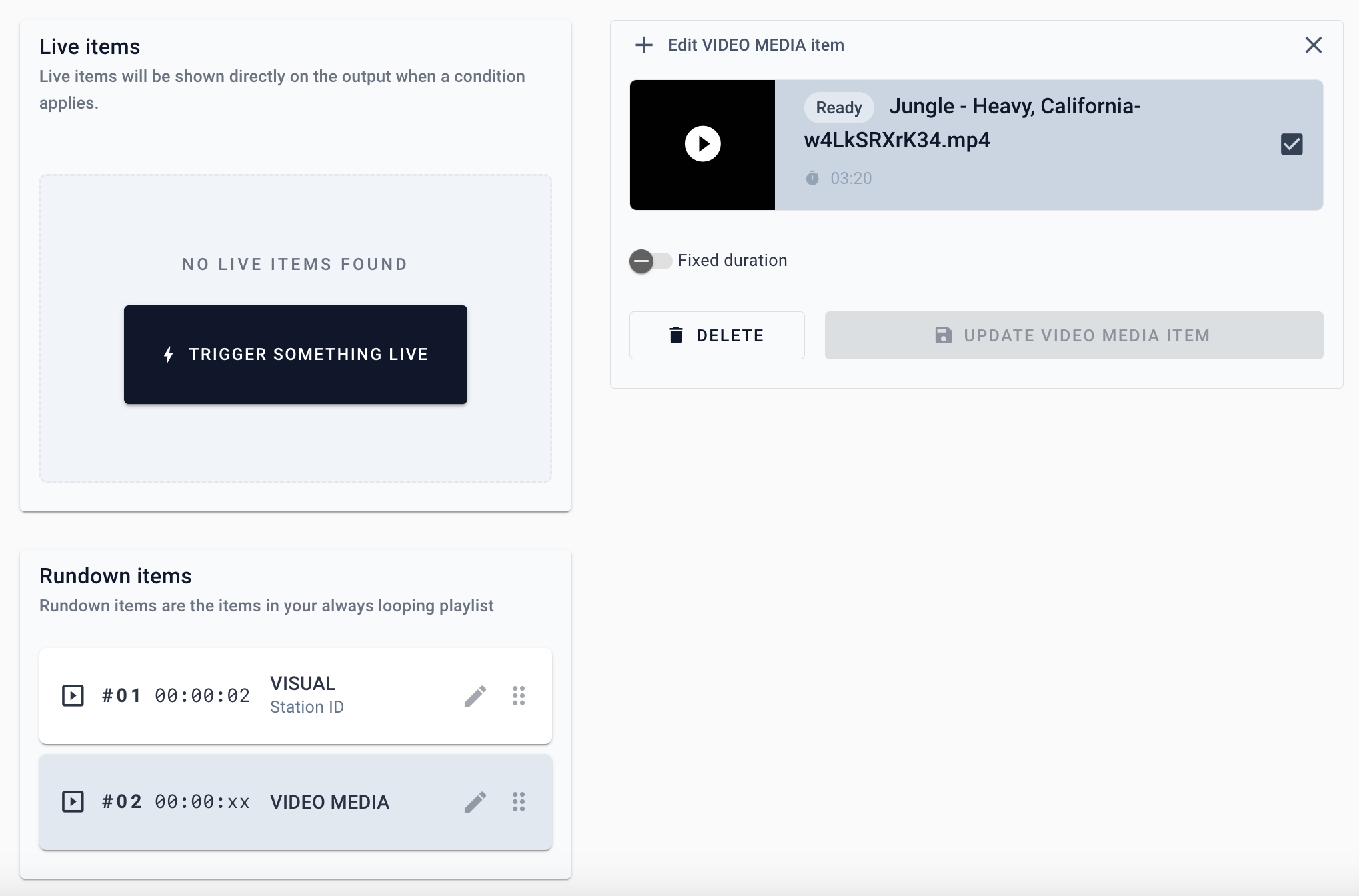 Uploading your media
VisualRadioAssist
https://visualradio.cloud/media/video
After upload, your media will be processed. When the media has been successfully processed you can see the "Ready" label.

Format & Auto conversion
VRA automatically converts the uploaded video into a suitable Output Player format; currently 1080p in your source framerate (max. 70 FPS). This processing step usually takes a minute or two.
File formats supported: MP4, MKV, MOV, AVI, FLV, MPEG-2 TS, MPEG-2 PS, MXF, LXF, GXF, 3GP, WebM, MPG, QuickTime
Alpha layers in uploaded video files will be converted to fill (black). Use Local Media files in
Output Editor
to play large Alpha-layer videos.
Limits
The max duration of your uploaded media must not extend 180 minutes / 1.5 hrs
Max average bitrate of 200Mbps
Consult your current license specifications for the maximum Cloud Storage you can utilize.